December is one of our favorite months here at Mad4You Hostel. Christmas, lights and decorations, get-togethers with family and friends, dinners, presents… Such a joyful month!
Keep on reading, as we have narrowed down the best events in town for the upcoming month!
December is one of our favorite months here at Mad4You Hostel. Christmas, lights and decorations, get-togethers with family and friends, dinners, presents… Such a joyful month!
Like every year, our December Blog is dedicated to tips on how to have the best time in Madrid during the holidays. Do not forget to have a quick read at our past Christmas Blogs as well, so that you can have a full understanding on how holidays are celebrated in our city! Here are the links: https://www.mad4youhostel.com/es/blog/navidad-en-madrid and https://www.mad4youhostel.com/en/blog/its-christmas-time-in-madrid
Keep on reading, as we have narrowed down the best events in town for the upcoming month!
Christmas Lights and Trees
Who does not love a city sparkling with lights in all colors? From November 24th until the 6th of January the city will be filled with millions of Christmas lights, 100% environmental friendly.
In total the lights will be on for 256 hours starting from around 18:00 till late at night and they will be different depending on the street or area of the city.
For example, from Cibeles Square to Puerta de Alcalá the illumination will remind you of a sky full of stars. In Calle Serrano, the fashion district, the lightning will be inspired by textures and patterns.
Like in every city in the world, Christmas trees are also a must. The most impressive ones are on Puerta del Sol (the main square), at the conjunction of Gran Via with Calle Montera and on the squares called Plaza de Callao, Plaza España and Fuencarral.
Lantern Festival at Madrid Rio (Puente del Rey – Metro Principe Pio)
We love a recurring event happening at Madrid Rio every year called the ´Lantern Festival´. Winter may be gloomy but that does not stop Madrid from making the most of the season. On the 21st December watch the river of Madrid become a sea of colors and lights as thousands of lanterns are released into the sky. It starts at 19:00 at Puente del Rey and it is completely free, although the parade has a maximum capacity of 1000 people. Therefore, do not forget to sign up for the event before 14th December!
International Christmas Fair of Cultures at Matadero (Paseo de la Chopera, 14 – Metro Legazpi)
Also called the ´Navideña´, this fair reveals the different ways of celebrating Christmas around the world. The program includes over 250 activities and 75 stands, and it has arrived at its third edition! The location is at the super cool "Matadero"; a huge cultural space with arts, food and an amazing atmosphere. It goes on from the 15th until the 29th of December, it is free and definitely worth a visit!
Naviluz (Plaza Colon, Metro Serrano)
Just like last Christmas, we recommend you to hop on the Naviluz, a special bus that starts from Plaza Colon and takes you on a discovery of the best illumination of the city.
It takes approximately 50 minutes and it the price is 3€. We find it a comfortable and cozy way of discovering the Christmas spirit of Madrid!
Christmas Markets
THE Madrid Christmas market is without any doubts the one at Plaza Mayor (Metro Opera). Here is where everything you need to celebrate this magical festivity can be found.
This year will be the 4th centenary of this emblematic square and for the occasion the 104 stands will have a special makeover. We strongly suggest you pay a visit to Plaza Mayor any day starting from the 24th of November till the end of December, you will not be disappointed.
Another interesting Market (and real close to our Hostel) would be at Plaza de España (Metro Plaza de España) where you can find anything from pottery to jewelry and from toys to Christmas decorations.
Christmas Food
If you happen to be in our city during the month of December, why not try some traditional Christmas food?
Casa Mira (Carrera de San Jerónimo 30 – Metro Sol)
Our first recommendation is a stop at Casa Mira; considered one of the gems of our capital. This is one of the oldest establishments of Madrid, as it was founded in 1855. Their specialty is turrón (traditional Spanish pastry similar to nougat, probably of Moorish origin), a dessert often eaten around Christmas time all over the country. Casa Mira's turron is 100% handmade and the venue is just lovely; the décor is elegant and vintage, a real throwback to the year 1900.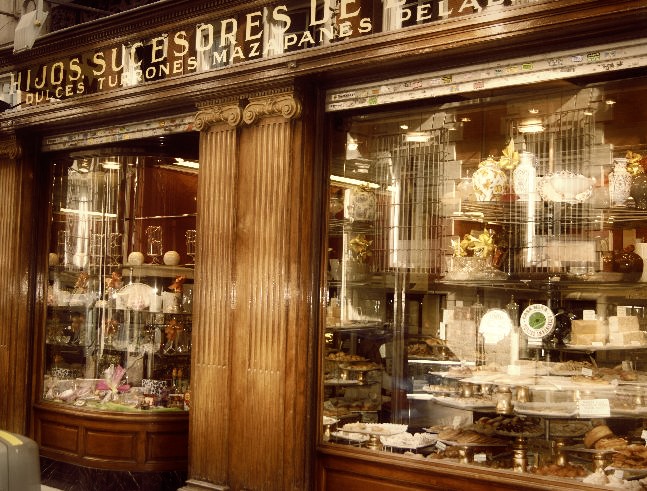 El Horno de San Onofre (Calle de San Onofre 3 – Metro Gran Via)
One of Spain its most felt Holiday is the Three King's Day on January 6th. On this morning you will see plenty of frenetic Madrilenians busy looking for the best roscón de Reyes. Probably, the majority of them will queue up at Horno de San Onofre. Its seven shops located all around Madrid offer a classic traditional roscón that can be personalized with decorations and fillings.
For those who are not familiar; the roscón is a typical ring shaped sweet bread eaten in most Hispanic countries. It is filled with cream or chocolate and topped with sugared fruit. The result? A delicious dessert looking like a king's crown full of jewels.
Events
Ice skating (Plaza de La Luna – Metro Callao)
Ice skating goes hand in hand with Christmas. Have a fun winter experience at just few blocks away from Mad4You Hostel. Skating for one hour is only 5€ and the rink is open from 10:00 to 22:00.
Harry Potter Exhibition (Avenida Partenón 5 – Metro Feria de Madrid)
For the upcoming holidays, Madrid has a special surprise for all Harry Potter fans: an entire exhibition based on the world of the magician and his friends! The Exhibition consists of hundreds of objects used in the films, as well as various sets inspired by them, which will enable you to step inside the magical universe of Hogwarts. The visit includes some of the movie's most popular locations such as the Gryffindor dormitory and the Forbidden Forest and tickets can be purchased online for 12,50€. Sounds like an awesome plan for Christmas, doesn't it?
New Year's Eve (Puerta del Sol, Metro Sol)
New year's eve in Madrid can be summarized with three words: uvas, cavas, churros (grapes, bubbles, churros).
Every year thousands of people pack into Madrid's main plaza; Puerta del Sol, to enter the New Year. As tradition wants, you should eat twelve grapes with each bell strike at midnight, to bring you luck in each of the twelve months of the upcoming year. The chimes are quickly replaced by the pop of cava bottles opening as the fiesta continues into the streets of Madrid.
We suggest you to spend the night out in the beautiful, narrow and chaotic streets of Madrid instead of spending it at some club, who are usually overpriced during this night anyway. The real party is happening in the calles and when the sun comes up, you can finish off the night with some churros with chocolate. Then, hit the sack at Mad4You Hostel for some much needed sleep. Feliz año nuevo!
Three Kings Parade 2018
The most magical night of Christmas for everyone in Spain, is the evening of the 5th of January, when the three Wise Men or Kings bring presents for everyone. In Madrid, the evening of the 5th will include some very special celebrations, with a huge parade bringing the Three Kings from the East; Melchior, Gaspar and Balthazar, to the city center with a message of peace and solidarity for all.
The procession will travel from Plaza de San Juan de la Cruz, setting off at 18:30, to Plaza de Cibeles, arriving there at around 20:45, all through the main street Paseo de la Castellana.
We hope we have put you in the Holiday mood with this Blog! Here at Mad4You we cannot wait to celebrate these magical festivities with you.
Do not forget to check out our social media platforms for news and updates on events and decorations!
Facebook: https://www.facebook.com/Mad4You-Hostel-521108997958471/
Instagram: https://www.instagram.com/mad4youhostel/
Looking forward to having you all here during the holidays and we wish you a merry Christmas and a happy new year!
The Mad4You Team