September is usually the month when everything is back to normal: back to your home after holidays, back to work, back to school, back to the routine. But not for Erasmus students! Erasmus is that magical part of a student's life when you get to experience three, six or even twelve months abroad. On this month's Blog we would like to make things a little easier for new Erasmus students by sharing some basic tips that might be useful once arrived in our capital. Keep on reading!
September is usually the month when everything is back to normal: back to your home after holidays, back to work, back to school, back to the routine. But not for Erasmus students! Erasmus is that magical part of a student's life when you get to experience three, six or even twelve months abroad. New friends, new languages to learn and places to discover. No matter where you go, your Erasmus will always be one of the best experiences of your life!
Here, at Mad4You Hostel, we are used to receiving a lot of fresh students who need a place to arrive to in Madrid whilst looking for the perfect apartment. On this month's Blog we would like to make things a little easier for new Erasmus students by sharing some basic tips that might be useful once arrived in our capital. Keep on reading!
Best areas for flats
One of the most common questions that our receptionists have been asked is "What is a good area to look for a flat?"
One of the greatest things about Madrid is that it is easy to afford a place in the heart of the city. Contrary to cities like London or Paris, where flats downtown mostly have prohibitive costs for students, our city offers a lot of living options right in the center. Also, it is important to know, that Madrid is a very safe city especially in its whole centric area.
We are always super glad to help our guests looking for the perfect barrio (neighborhood) where to rent the apartment that will be their home for the rest of their Spanish adventure, so here goes our top three neighborhood list:
Malasaña
Well, our Hostel being located in Malasaña, we obviously always recommend our neighborhood first: alternative, colorful, vibrant and with plenty of little bars, cafes and vintage shops. Who would not like to live in Plaza Dos De Mayo or Ildefonso?
Malasaña has been through some changes over the past decades: when the hipster movement took over and young people started taking a serious interest on this area of the city, prices naturally went up, transforming a very traditional and classic Madrilenian barrio into the new hot spot for youngsters.
But do not panic, rooms can still be pretty affordable in Malasaña: sharing a flat could cost you between 400€ and 500€ euros per month but you will be living right in the center and immerged in Madrid's best nightlife. You will not need a cab to get back home after a night out, the action is all here!
Little tips: Coffee and study sessions at Toma Café or La Bicicleta and live music at El Barco!
Lavapies
Lavapies is the ethnic barrio of the city, it cleaned up a lot during the years and it is now the perfect spot for cheap tapas, international food and vibrant street life.
Get lost in its narrow streets, try each week a different restaurant and sit outside on one of the many terrazas to sip a caña! Living here is a blast, nothing is more authentic than this barrio and rents are fairly cheap compared to other areas of the city.
Recent articles have rated Lavapies as the new hit neighborhood (check out this article in the famous online magazine VICE: https://i-d.vice.com/es/article/pagd3g/vivir-en-lavapies), so our advice is that you seriously consider it!
Moncloa/Arguelles
Hands down, this is the best neighborhood for students. The flats are usually rented by universitarios that want to be close to their faculties and share a flat and experiences with fellow students.
Moncloa and Arguelles are especially close to the Universidad Complutense and to the Universidad Politecnica and there is a great transport network as Moncloa Station is home to line 3 and line 6 of the metro, as well as a wide range of bus routes. There are other nearby metro stops on line 3, like Argüelles, Ventura Rodríguez and Plaza de España. Moncloa also has parks, shops, bars and the city center at a stone's throw.
So, which neighborhood is the best fit for you?
Getting around in Madrid
Public transportation in Madrid is very easy and intuitive. It is possible to get anywhere, outskirts included, thanks to a very well organized metro, bus and train system. Also, the good news for anyone younger than 26 years old, is that the fixed monthly price for the transportation card is only 20€.
Metro
Madrid metro (or subway) is considered one of the cleanest and most modern structures in the world. It is open daily from 6 am to 1:30 am and it is made up of twelve lines that cover the whole city of Madrid and even some outside areas. The official APP of Metro Madrid is available for downloading and it helps you getting around by advising you on the quickest way to reach your destination.
You can get the abono mensual (monthly metro card) at Sol station, where the customer service office is open 365 days from 7:00 to 22:00 (during weekends from 10:00 am to 10:00 pm). Otherwise, just check out this link to find out all the other stations that sell the transportation card: http://crtm.es/media/314733/oficinasgestionttp.pdf
And for all the other info about Metro Madrid check out: www.metromadrid.es
Trains (Cercanias)
The trains in Madrid mainly connect the downtown area with some nearby cities in a fast way. It consists of ten lines and it is a bit more expensive than the Metro but still considerably cheap.
Buses (EMT)
As the metro closes at 1:30 am, buses are good option to come back home after a night out. You can easily distinguish a night bus for the letter N appearing on its front screen.
The Night buses are colloquially called "búhos" (Spanish for owls) and they all depart from Plaza de Cibeles. Fares are the same as during day hours, but the frequency is less. From Sunday to Friday and on holidays, late night buses run every 35 minutes, from 11.55 pm to 4 am. The next bus departs at 5.10 am. On Saturday and on the day before a bank holiday, búhos depart from Cibeles every 15 to 20 minutes, starting at 11 pm till 7 am.
Bici Madrid
Madrid is one of the few cities in Europe to have an electric bike sharing system. This is amazing! Those electric bikes are parked in "stations" situates all over the city where you can take one for a ride or drop it after having used it.
You can either get an annual card for 25€ (15€ if you have the public transportation card mentioned above) and you will be paying only 0,50€ the first 30 minutes of each ride. Then 0,60€ from the second 30 minutes on. Not to mention that they do have a 24 hours customer- and assistance service that you can call anytime in case you have troubles with your card or with the bike (010). We receptionists use it and we find it fast, efficient and convenient! More info at www.bicimadrid.com.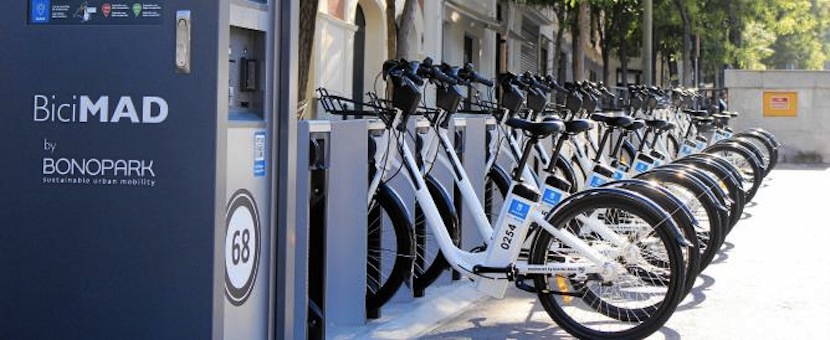 Where to meet other Erasmus students
One of the most important and fun aspects of being a foreign student is definitely meeting other Erasmus students. Those are the people that are going to share your same experience, struggle with the same problems and be there for you throughout the whole year.
A good way to start meeting other students is at Mad4You Hostel. A beer in our open air patio and joining the Pub Crawl any night of the week are a great way to start getting to know new people in town.
Also, every Monday Madrid is host to a big Erasmus party, called Fuckin´ Monday. The entire Erasmus community of Madrid dances the night away at this party every week. The locations is Sala 0 (Plaza Callao, 4) and the party starts at 23:30 and goes on till 5:30 (officially). For 8€ you will be joining your fellow Erasmus students on the dance floor!
If that is not enough, here goes some companies specialized in Erasmus activities:
Madride
Our favorite tour company in Madrid will definitely help you getting to know the city and its secrets! Join their free walking tours, Pub Crawls, Flamenco and Tapas Tours and get carried away by the knowledge of their amazing tour guides!
They also organize activities with the purpose of getting together newly arrived foreigners such as Erasmus students and Au Pairs. Examples are international picnics and pot locks.
City Life
This company should be checked out by all Erasmus students. It offers a very wide range of activities from "Meet&Speak" to Karaoke nights and excursions to other cities of Spain and even to Morocco!
Their website is well designed and it is really going to help you getting settled in Madrid. Sign up for their newsletters and you will receive free guides of the city and daily tips on what to do in town. And do not forget to pick your "Free Welcome Pack" at their office. It includes super useful information on how to get a Spanish bank account and sim card, city maps, notebooks and even an USB stick and a phone charger!
https://www.citylifemadrid.com/
Well, we hope our tips have been useful to you, new Erasmus students and future guest of Mad4You Hostel! We wish you an incredible experience in our beautiful city and lots of luck with your studies! Do not forget to collect moments, memories and lots of new friends.
For any questions or help required, you can contact our receptionists 24 hours a day, 365 days a year. Our email address is info@mad4youhostel.com and our phone number is 0034 915 217 549. Also do not forget to visit our website for other useful and fun information about Mad4You Hostel and about Madrid and Spain in general: www.mad4youhostel.com.
We send you our best regards,
Team Mad4You Hostel