Madrid is definitely full of surprises when it comes to dining out.
Restaurants, bars, cafés, places for brunch… the city is filled with places where you can have a nice meal.
We have written several blogs on this subject and this month we want to make a little surprise to all our Latinos friends: best south American restaurants in the vicinity of Mad4You.
Keep on reading if you are an arepas and taco fan!
Madrid is full of surprises when it comes to dining out.
Restaurants, bars, cafés, places for brunch… The city is filled with spots where you can have a nice meal.
We have written several blogs on this subject and this month we want to surprise to all our Latino friends: a list of the best South American restaurants near Mad4You.
Keep on reading if you are fan of arepas and taco!
Taqueria Mi Ciudad (Mexican) – Calle de Las Fuentes 11 and Calle Hileras 5
This is one of the best Mexican restaurants in town. The first Taqueria Mi Ciudad opened few years ago in Calle de las Fuentes and it is a small taqueria with few seating seats and people mostly eat standing up at the bar. A variety of delicious tacos are served, along with guacamole, frijoles, gringas… All homemade and cheap. If you are with a big group and would like to sit down and enjoy a longer dinner, visit the one in Calle Hileras. Do not miss out on their variety of tequilas and mezcal, to sip while biting into a taco!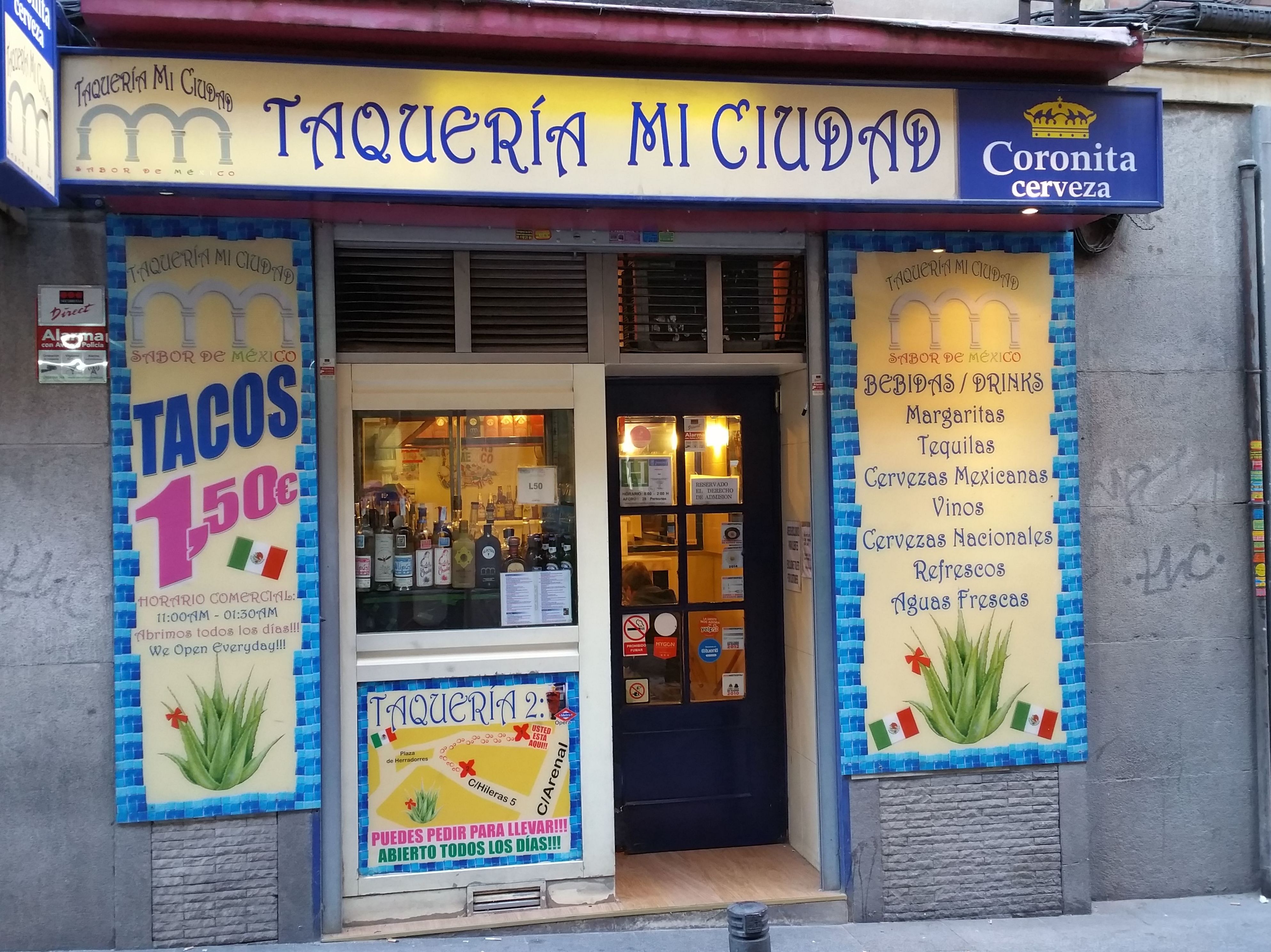 Chincha Internacional (Peruvian) – Calle de Meléndez Valdés, 7
This authentic peruvian restaurant peruvian and located next to Plaza Quevedo. Chincha is famous for its Yuca and the typical dessert Suspiro. The pride and joy of this restaurant is obviously the Ceviche, prepared with only the best ingredients. Another star of the menu is the Pollo al Carbon and, of course, do not forget to have a refreshing « chicha » to wash down the food! Staff is warm and welcoming, just like in Peru!
Paperboy (Hotdogs) – Calle de Luchana, 11
If you are into finger food (who isn't?) we strongly recommend you Paperboy, specialized in "perritos calientes" (hot dogs). There are ten different kind of perritos, with five different types of sausages and served with artisanal bread. Our favorite is "El Nacional", Venezuelan style with chips, onions, carrots, garlic sauce and cheese. Do not expect to spend more than 10€ at this lovely place, as the perritos cost 5€ and the appetizers are never over 4€. Mad4You approved!
La Rochela (Colombian) – Calle del Cardenal Cisneros, 58
To all our Colombian friends we recommend a trip to La Rochela Café, only 15 minutes walking from Mad4You Hostel. Although the name in Colombian slang means "noise", this place is very cozy and with a relaxed atmosphere. It is not only a diner but also a place where you can attend storytelling or concerts. The decorations are colorful and will remind you of beautiful Colombia. What to eat at La Rochela? Definitely order the Ajiaco Santafereño, a delicious soup typical from Latin countries.
Cafeteria Lily in Mercado de los Mostenses (Chifa ) – Plaza Mostenses, 1
Chifa is a culinary tradition based on Chinese Cantonese elements fused with traditional Peruvian ingredients and traditions. Curious, right? There is a small, informal corner in the Mostenses market where you can taste the best of this fusion cuisine for the cheapest price. Do not miss out on an authentic Madrilenian experience (eating at a barrio market) while discovering new flavours!
Keyaan's (Dominican) – Calle De Blasco de Garay, 10
If you want a taste of the Dominican Republic in Madrid, then Keyaan's will not disappoint you. Specialized in Dominican empanadas, traditional sides, and homemade desserts, this colorful café brings a true taste of Santo Domingo to the streets of Madrid. If you want to sample as many empanada flavors as possible, you will appreciate the « Lunes de Locura », when mini empanadas are available for just €1 each (and larger ones for €2.50). Managed by a lovely young couple, this small venue is vibrant and tastly decorated, so it is definitely our number one suggestion when it comes to empanadas!
We hope we have made you hungry and craving for some delicious South American food. Most of our guests come from this amazing continent and we know how important it is when travelling to feel a little bit like home!
Do not hesitate to ask our constant hungry staff for some more tips on restaurants in the neighbourhood and we hope to see you soon at Mad4You.
Hugs from the Staff!