In this month´s blog we are going to write about two fun-, ecologic- and practical ways of transportation: the bicycle and segway. Therefore, if you want to know where to rent these devices and also learn some tips about moving around the city with either one of them, stay with us!
Madrid is not a very big city and in the center you can easily move around by foot.
That said, if you want to avoid taking public transport to visit the places located further away, or you are just more in the mood to see the city from another point of view, there are some alternative options for you.
In this month´s blog we are going to write about two fun-, ecologic- and practical ways of transportation: the bicycle and segway.
Therefore, if you want to know where to rent these devices and also learn some tips about moving around the city with either one of them, stay with us!
Segway:
The segway is a motorized vehicle with two wheels that has taken leadership as a touristic attraction more than a way of transportation and numerous companies rent them out for hours.
Furthermore, some of them offer more complete tours and allow you to discover Madrid in a different- and very original way.
Take for example the company Madrid Segway: for prices that linger between €30 and €60 depending on the activity, they offer the possibility of touring through the city center of Madrid, the river of Madrid, Retiro park, or even go shopping without getting of this special transportation device.
If you want more information you can visit the following link:
http://www.segwaymadridtour.com/
Although we are sure the guides will be able to give you all the necessary information to use a segway, we also want to offer you some advice to be able to use this way of transportation while having fun but also while being responsible.
1- Use the correct clothing: A helmet is a must and it is also recommended that you use protectors for your wrists, elbows and knees to avoid any risks.
2- Do not perform unpredictable maneuvers: The segway can feel your movements and it keeps you balanced, but if you move very abrupt it will not be able to help you. Therefore, do not turn too fast and if you need to stop, do it gently.
3- Avoid going too fast: Pay attention to the speed limiter on the wheel. When inside, go slow and let the ones who walk pass. When outside you can go faster but be careful with corners.
4- Be careful with obstacles: The obstacles that you can find on the way can make you fall down or can cause an accident. Therefore, avoid obstacles like branches, stones or broken glass and do not drive on slippery surfaces, like ice, snow or wet floors.
5- Be responsible: slow down at crossroads and intersections and avoid cars and bikes because it is possible that the segway will be no heard nor seen. And, of course, do not use your mobile telephone nor headphones while you drive.
Bicycle:
In Madrid it is becoming more common to see cyclers roaming the city, with high speed over the principal roads, or just a lovely tour next to the shore of the Manzanares river.
Our city is filled with hills and therefore, the government of Madrid has installed, two years ago, bicycles with a small motor to make your journey more easy, which you can rent at different spots throughout the capital.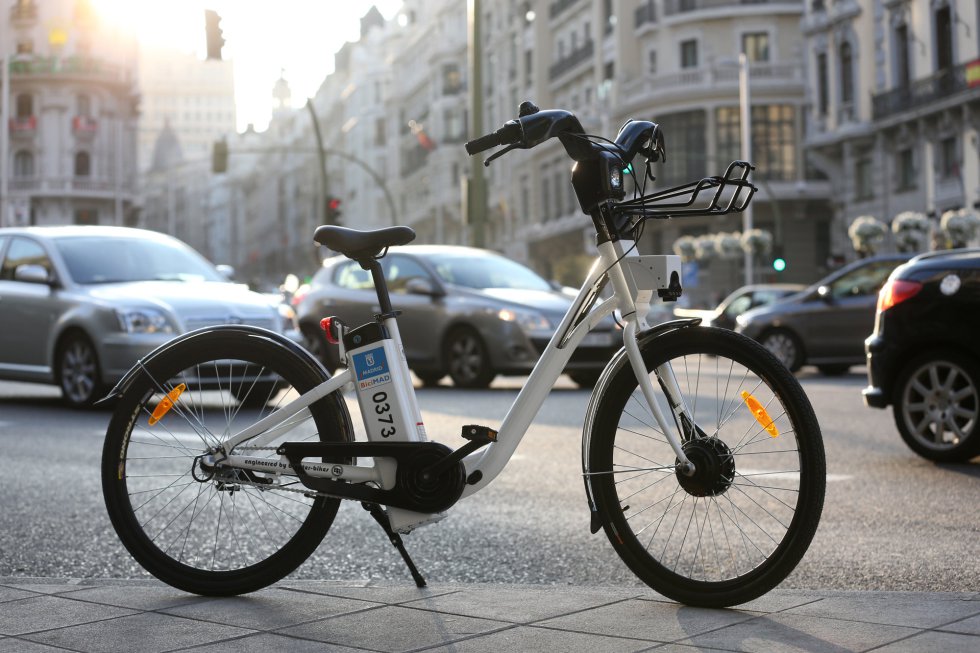 The service we are talking about is called BiciMad and there are two ways of using it:
1. First of all, if you live in Madrid, you can obtain a monthly pass that costs €25 (only €15 if you already have the public transportation pass) and you should charge it to be able to make use of the bicycles.
2. On the other side, if you are just visiting for a couple of days and you want to travel the city by bike, you have the possibility to obtain an occasional user-pass for one-, three- or five days and you will only be charged for the minutes you have used the service.
Madrid is filled with stations where you can pick up one of these bicycles and to do so you only need to scan the card over the reader with the green light and pull gently on the bike to free it.
To return the bicycle you should bring it back to a station with that has a red light and make sure that when you place the bike into the station the color turns green and you hear a beep.
https://www.bicimad.com/index.php?s=como
As you can see the system is easy and you only need a couple of minutes before being able to use it. But, before that, we want to share some basic recommendations with your before you start using a bicycle in a city like ours:
1- Do not ride on the sidewalk: Although in the beginning it will seem dangerous and difficult, you should try to get used to riding on the normal roads and not disturb the people walking on the sidewalks.
2- Own the road: It is mandatory to ride on the most right lane and we recommend you to stay in the middle of that lane so cars will respect your place on the road. If you go too much to the side, cars will pass you on the same lane and this can be very dangerous.
3- Signal your directions: If you are planning on switching lanes to pass a bus that has stopped or turning because you are changing directions, do a sign to communicate this to other vehicles.
4- Respect the rules: Your bicycle is one more traffic participant. You cannot be a pedestrian whenever you want. This means that when the traffic lights are red you need to stop, you cannot talk on the telephone or go into a street riding into wrong direction.
5- Safety: The use of a helmet is not mandatory, but it is highly recommended. If you ride during the night, it is necessary you have a front- and back light and, to finish it off, if you have your own bike, invest some of your money in buying a U shaped lock to prevent unpleasant surprises.
When following the above mentioned tips, you can have fun while making responsible use of a way of transportation that is getting more popular amongst the people of Madrid.
And so far for our blog for this month. We hope you have found it useful and that you are going to try to jump on a bike or segway! Do not forget that our receptionists can offer you more recommendations and help you out with solving whatever questions you might have, and therefore if you have questions, do not hesitate sending us an email to info@mad4youhostel.com or give us a call at 0034 915 217 549.
A big hug from the entire staff of Mad4You Hostel